On January 17, 2023, a Sino-Russian Arctic Research Workshop was successfuly held on online with nearly 50 participants. The workshop was jointly organized by the Institute of Tibetan Plateau Research, Chinese Academy Sciences (ITPCAS), the Trofimuk Institute of Petroleum Geology and Geophysics (IPGG), Siberian Branch, Russian Academy of Sciences, and the Institute of Archaeology and Ethnography (IAET), Siberian Branch, Russian Academy of Sciences. It is the first official meeting between ITPCAS and two Russian institutes since the Memorandums of Understanding were signed in 2020.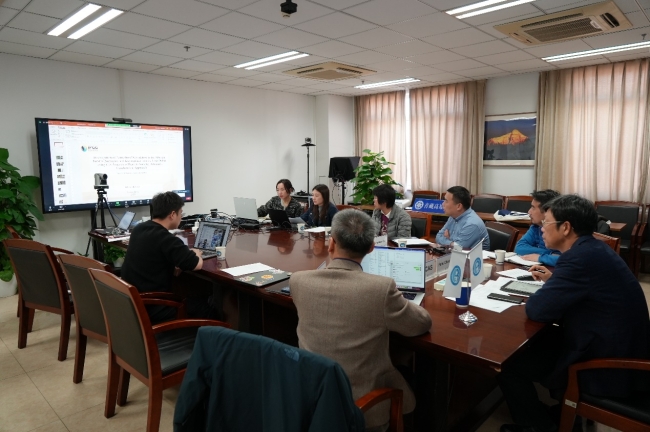 Onsite participants at ITP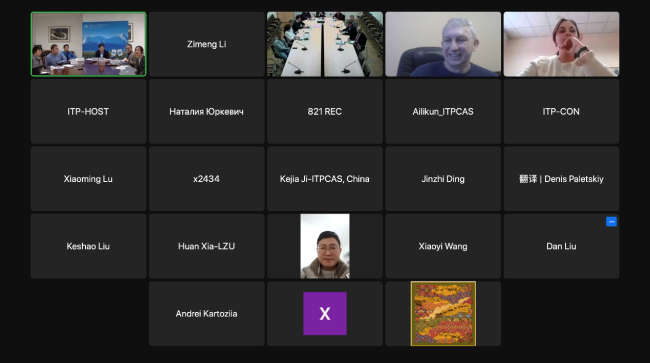 Online Participants
Prof. CHEN Fahu, Director of ITP, welcomed scientists from both sides and gave an introduction to ITPCAS. Dr. Vyacheslav Glinskich, Director of IPGG and Dr. Andrey Krivoshapkin, Director of IAET, also introduced their home institutes and the "Samoylov Island" Scientific Research Station.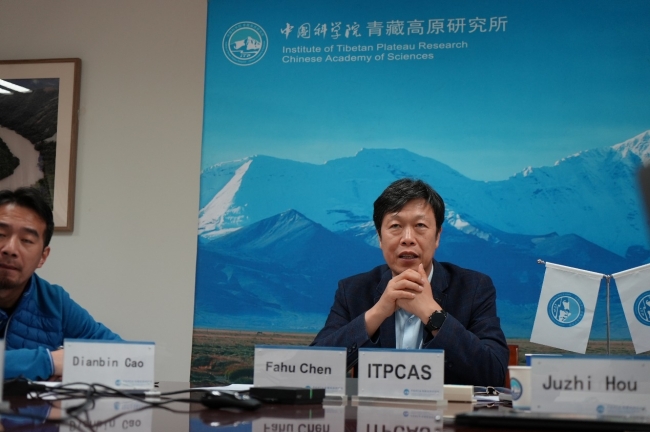 Welcome speech by CHEN Fahu
During the Plenary Session, seven presentations covered the topics on 1) Arctic atmospheric and environmental observation, 2) Arctic terrestrial ecosystem evolution, and 3) Pre- and historic Eurasia exchange. Dr. Natalia Yurkevich (IPGG) talked about the investigation of permafrost degradation in the Siberian Tundra, on Samoylov and Kurungnakh Islands, Lena Delta, using GIS Analysis of Remote Sensing Data and a Geochemical Approach. Dr. CHEN Xuelong (ITPCAS) presented observation plans of atmosphere and environment in Arctic, focusing on instrument installing, data sharing and potential cooperation with the Samoylov Station. Dr. Nikolay Lashchinskiy (IPGG) shared his studies on vegetation of Lena River Delta and its dynamics due to global warming. Dr. CAO Xianyong (ITPCAS) introduced his work plan on Arctic terrestrial ecosystem evolution, focusing on climate, vegetation, permafrost, lake, and microorganisms at various spatiotemporal scales. Dr. Natalia Rudaya (IAET) discussed validated paleoenvironment research methods in Arctic from her research experience. Dr. HOU Juzhi presented studies on Early Human migration and trans-Eurasia exchange focusing on effects of environmental changes on cultural exchange in the Eurasia Steppe. He also introduced the Association of Trans-Eurasia Exchange and Silk Road Civilization (ATES). Dr. Boris Nikitenko (IPGG) presented evidence of stratigraphy, sedimentology, geochemistry and biology in Mesozoic basins of the Siberian Arctic, which revealed the global anoxic oceanic and paleoclimate events.
Plenary Session chaired by Dr. CAO Xianyong
In the end, scientists from ITP, IPGG and IEAT exchanged views on mutual concerns and discussed plans of overseas observation and potential cooperation. Both sides agreed to push forward concrete actions and propose detailed plans for the future cooperation.