China-Pakistan Joint Research Center on Earth Science (CPJRC) Research Theme II has successfully organized an International seminar on climate change and environmental effects on July 27, 2021. The seminar hosted by the Institute of Tibetan Plateau Research (ITP), Chinese Academy of Sciences (CAS), adopted the hybrid online/offline mode due to the COVID-19 situation. CHEN Fahu, Academician of CAS, Director-General of ITPCAS, and Chief Scientist of CPJRC Research Theme II, HONG Tianhua, Executive Director of CPJRC, and other experts joined the seminar physically and more than 50 scholars attended it online.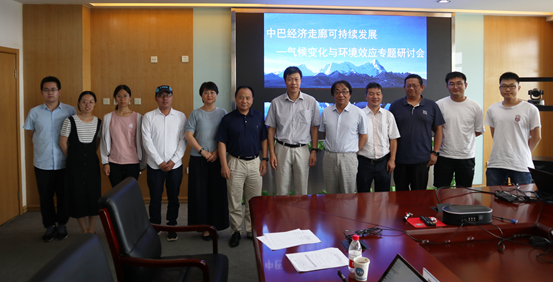 In the opening remarks, Executive Director HONG Tianhua introduced the background, purpose and importance of establishing the CPJRC. Moreover, the progress of the Center, key projects related to China Pakistan Economic Corridor and the relevant scientific issues were highlighted. Academician CHEN Fahu summarize the works completed by CPJRC Research Theme II on climate change and environmental effects and put forward specific requirements for the research plan of the next stage. He hoped that after the completion of this seminar, unique scientific issues of climate change and environmental effects in the China Pakistan Economic Corridor will be focused on, and regional study can be enhanced through cooperation.
  ZHANG Fan, Deputy director of CPJRC and professor of ITPCAS chaired the first session in the morning, during which Prof. CHEN Xuelong of ITPCAS, Prof. SHANGGUAN Donghui of Northwest Institute of Eco-Environment and Resources (NIEER) of CAS, Prof. ZHANG Yinsheng and Prof. HOU Juzhi of ITPCAS were invited for the presentations on the four research directions of CPJRC Research Theme II, i.e., the climate change and westerly monsoon interaction, cryosphere evolution and environmental effects, cold region hydrology, and ecological evolution, respectively. The presentations reported the recent research work and research achievements through scientific cooperation between China and Pakistan, as well as refined research plan and expected outputs in the next two years. The participants conducted extensive discussions on the atmospheric circulation and water vapor transmission in the China Pakistan Economic Corridor.
  ZHANG Yinsheng, Prof. of ITPCAS chaired the second session in the afternoon, during which five scientists, including Dr. Yasir Latif and Dr. Ahmad Ijaz from University of Engineering and Technology (UET), Lahore, Pakistan, Prof. SHANGGUAN Donghui from NIEERCAS, Prof. ZHU Haifeng from ITPCAS, and Dr. Fahan Suhaib from Pakistan Space & Upper Atmosphere Research Commission (SUPARCO) and PIFI fellow of ITPCAS, were invited to talk on Snow and glacier runoff simulation and hydroclimatic trends variability analysis in the Upper Indus River Basin Pakistan, Hydrometeorological Variability in Upper Indus River Basin: Issues and Management, Determining the events in a glacial disaster chain at Badswat Glacier in the Karakoram Range using remote sensing, Unexpected climate variability inferred from a 380?year tree?ring earlywood oxygen isotope record in the Karakoram, Northern Pakistan, and Collaborative research initiatives and Activities in UIB by SUPARCO and ITPCAS, respectively.
  This seminar strengthened the academic exchange among the cooperation institutions and scientists of CPJRC Research Theme II on climate change and environmental effects and promoted the development of the CPJRC.