Prof. Dr. Hira Bahadur Maharjan, Vice Chancellor of Tribhuvan University, Nepal, visited ITP (Beijing) on April 29, 2014 to discuss the development of the TPE Kathmandu Center and the joint-efforts needed to promote the Center into a CAS Center in South Asia. Prof. YAO Tandong welcomed the Nepalese guests and extended gratitude to their hospitality during CAS delegates' visit to Nepal from April 7-9.
During the meeting, Prof. ZHU Liping, deputy director of ITP, introduced the institute, the TPE Program, and the education of young Nepalese scholars at ITP. Prof. LIANG Eryuan briefed the visiting guests on the recent activities by the TPE Kathmandu Center (based in TU) and the CAS President Bai's proposal to develop the center into a CAS center in South Asia. Prof. Maharjan shared the vision and insight of the CAS authorities and agreed to work closely with the center to promote its growth into an internationally acknowledged research center. On knowing the center's need for land and building in its near-future development, he promised his utmost support in both infrastructure and logistics on the TU campus to give impetus to the further development of the center.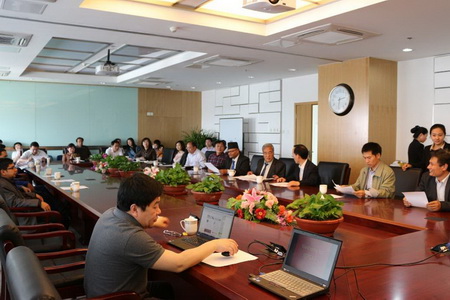 Before the meeting, Prof. Maharjan and Mr Krishna P. Adhikary, a visiting professor in the China Three Gorges University, were also shown around in the three CAS key laboratories located in ITP, including the Laboratory of Tibetan Environment Changes and Land Surface Processes, Laboratory of Continental Collision and Plateau Uplift, and Laboratory of Alpine Ecology and Biodiversity.