On April 7, 2014, CAS delegation led by CAS/TWAS president BAI Chunli visited the TPE Kathmandu Center in Tribhuvan University (TU), Nepal, and attended the launching ceremony of the center.
Before the launching ceremony, Prof. YAO Tandong introduced the TPE program on the meeting between CAS President Bai and TU Vice chancellor Prof. Hira B. Maharjan. Prof. Yao's presentation started from the origin of the 'Third Pole', and ranged from dramatically changing environment in the Third Pole region to six key science questions of the TPE program, and ranged from the construction of an integrated monitoring network in the Third Pole region and a complete set of human resources in various aspects for the growth of the TPE program. He also introduced the development of the TPE centers throughout the world: (1) Beijing center was established in 2009 to coordinate with the overall TPE activities; (2) Kathmandu center was established in 2013 to facilitate field expeditions and research in the southern Himalayas; (3) Berlin center will be established to coordinate TPE activities in Europe; and (4) Columbus center will be established to coordinate TPE activities in U.S. He proposed to promote the TPE activities in TU to a higher level, e.g., establishing CAS center based on the TPE Kathmandu center. He also briefed both sides on his meeting with Chair and vice chairs of the Tibet Autonomous Region, who extended their hands to ITP scientists to advise on policy making by joining the seminars/workshops and composing government report.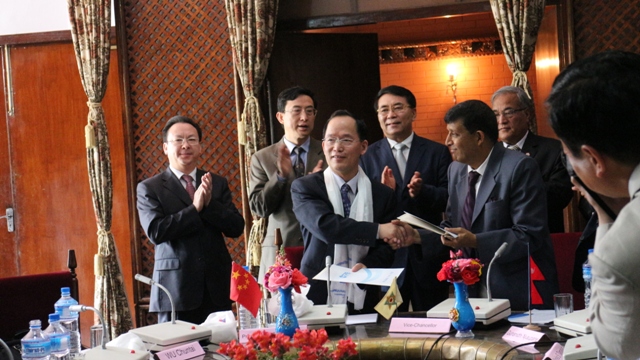 ITP Prof. LIANG Eryuan also briefed the delegates from both CAS and TU on the academic background for the TPE to establish its Kathmandu center, and introduced major activities and contributions TPE has made to the scientific and technological development in Nepal. He ended his presentation by indicating that the TPE Kathmandu center is almost ready to become a CAS center in South Asia. Dr. YANG Xiaoxin took the delegates on a poster tour to demonstrate the locations of field stations, field expedition activities, and fruitful academic achievement with the involvement of Nepalese young research staff sponsored by the TPE program.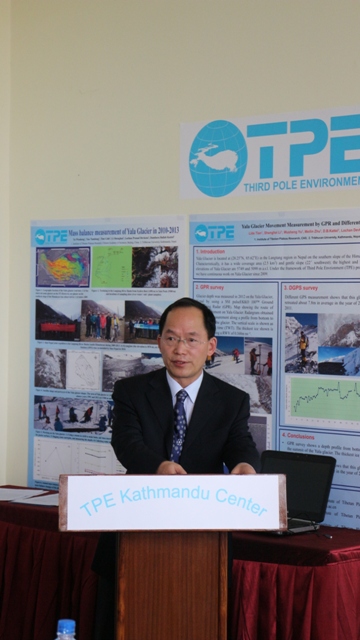 Both TU VC and CAS President presided over the inauguration ceremony of the TPE Kathmandu center. Mr. WU Chuntai, Chinese Ambassador to Nepal, attended the ceremony and poised for group photo together with the CAS delegation including Prof. TAN Tieniu, member of the Chinese Academy of Sciences, Prof. CUI Peng, member of CAS and deputy director of Chengdu Institute of Mountain Hazard and Environment CAS, Prof. ZHANG Linxiu of the Institute of Geographical Sciences and Natural Resources Research, Mr. WANG Zhenyu and Dr. DONG Qi of the CAS Bureau of International Cooperation, and Profs. YAO Tandong and MA Yaoming of ITP/CAS.