Invited by the Chinese Academy of Sciences-Tribhuvan University (CAS-TU) Kathmandu Center for Research and Education (hereafter referred as KCRE), Nepalese Ambassador in China Mr. Leela Mani Paudyal visited the Institute of Tibetan Plateau Research, Chinese Academy of Sciences (ITPCAS) on July 30th, 2018 and attended "The 7th Third Pole Environment (TPE) Science & Technology Training workshop". This training workshop is supported by CAS and organized by the TPE Programme.
Mr. Leela Mani Paudyal was warmly received by Prof. Yaoming Ma, head of Foreign Affairs in ITPCAS, and then he joined the lecture by Dr. Dhananjay Regmi, Vice President of the Geographical Society of Nepal, on the theme of "Ongoing research activities in Nepal Himalaya."
After the lecture, Mr. Leela Mani Paudyal talked with the CAS member, Prof. Lin Ding, the director of TPE International Programme Office (IPO), Prof. Ailikun, the executive director of KCRE, Prof. Tao Wang. More than 20 Nepalese students in ITPCAS also joined the discussion. Prof. Lin Ding briefed the ITPCAS, annual TPE Science & Technology Training and the Nepalese students studying in ITPCAS. Prof. Ailikun introduced the "Pan-Third Pole Environment Study for a Green Silk Road" (here after as Pan-TPE), a new frontier research for the TPE Programme, and emphasized the important role of KCRE in the implementation of Pan-TPE program.
Mr. Leela Mani Paudyal concluded that, this was his first time to ITPCAS and has learned a lot during the shot visit. He was very excited to see many Nepalese students studying in Chinese Academy of Sciences. He hoped they could seize the opportunity and collaborate with the excellent scientists in China and all over the world to contribute to the climate/environmental change research in Nepal in future. He also expressed his wishes of continuously promoting the environmental research on the north and south slopes of the Himalayas. On behalf of the Nepalese Embassy, he will fully support the future scientific activities in Nepal by ITPCAS and KCRE.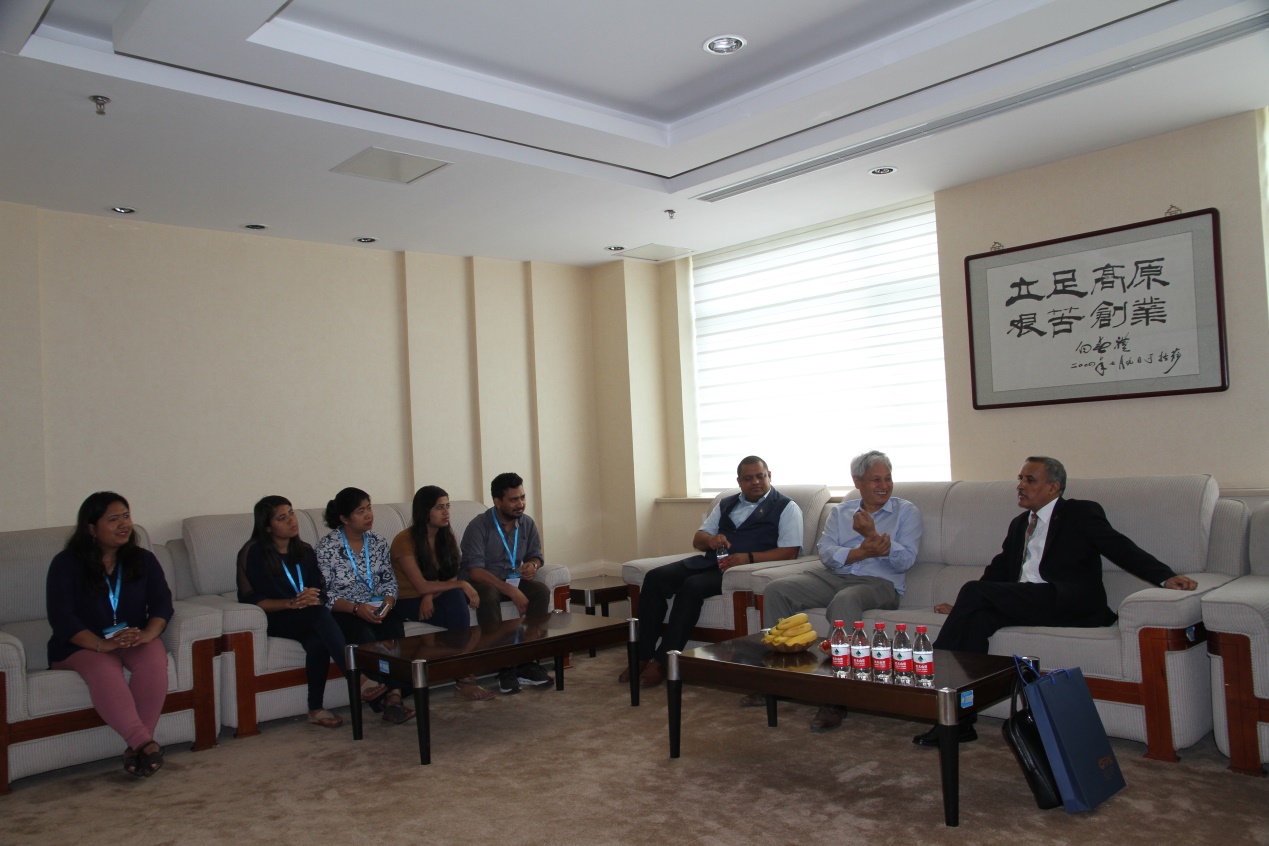 Mr. Leela Mani Paudyal discussed with the ITPCAS colleagues and training participants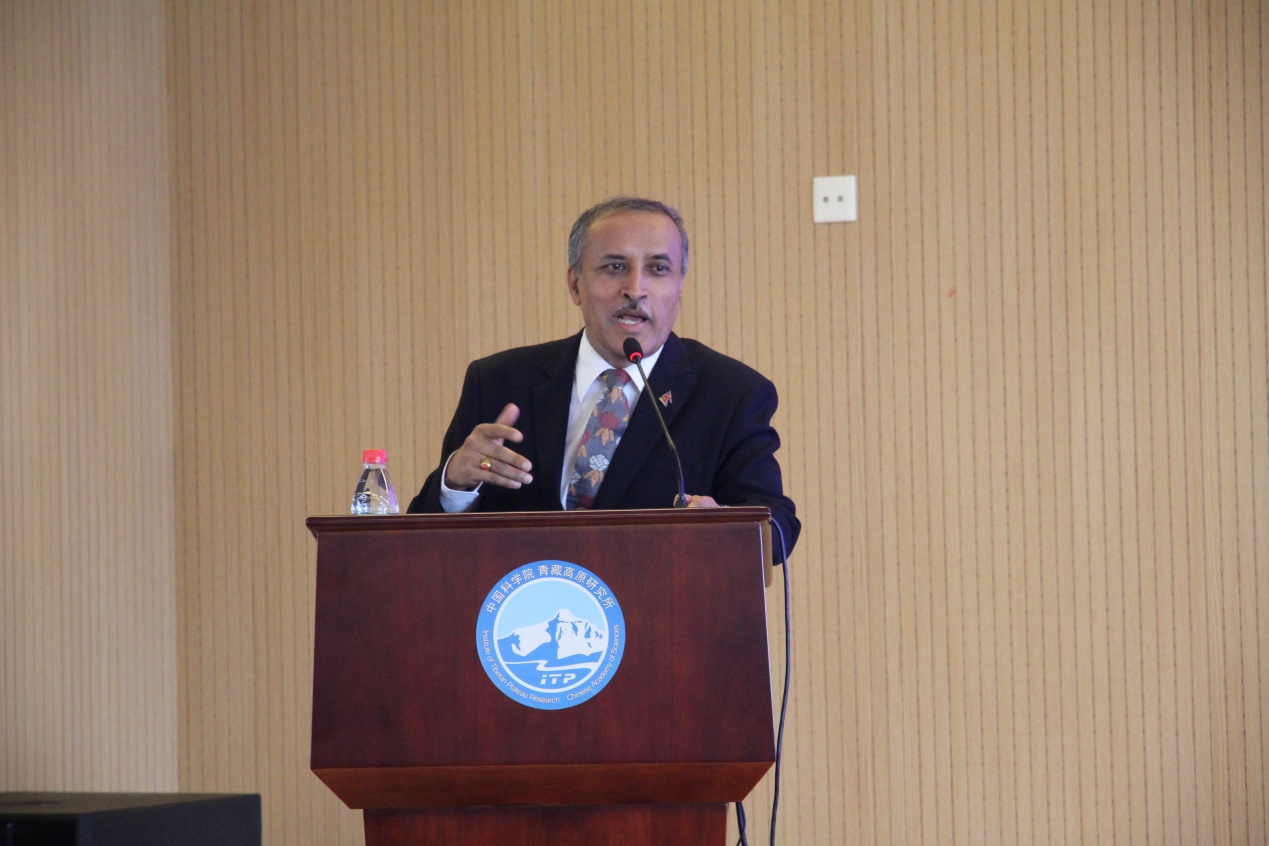 Mr. Leela Mani Paudyal delivered a speech in the TPE training workshop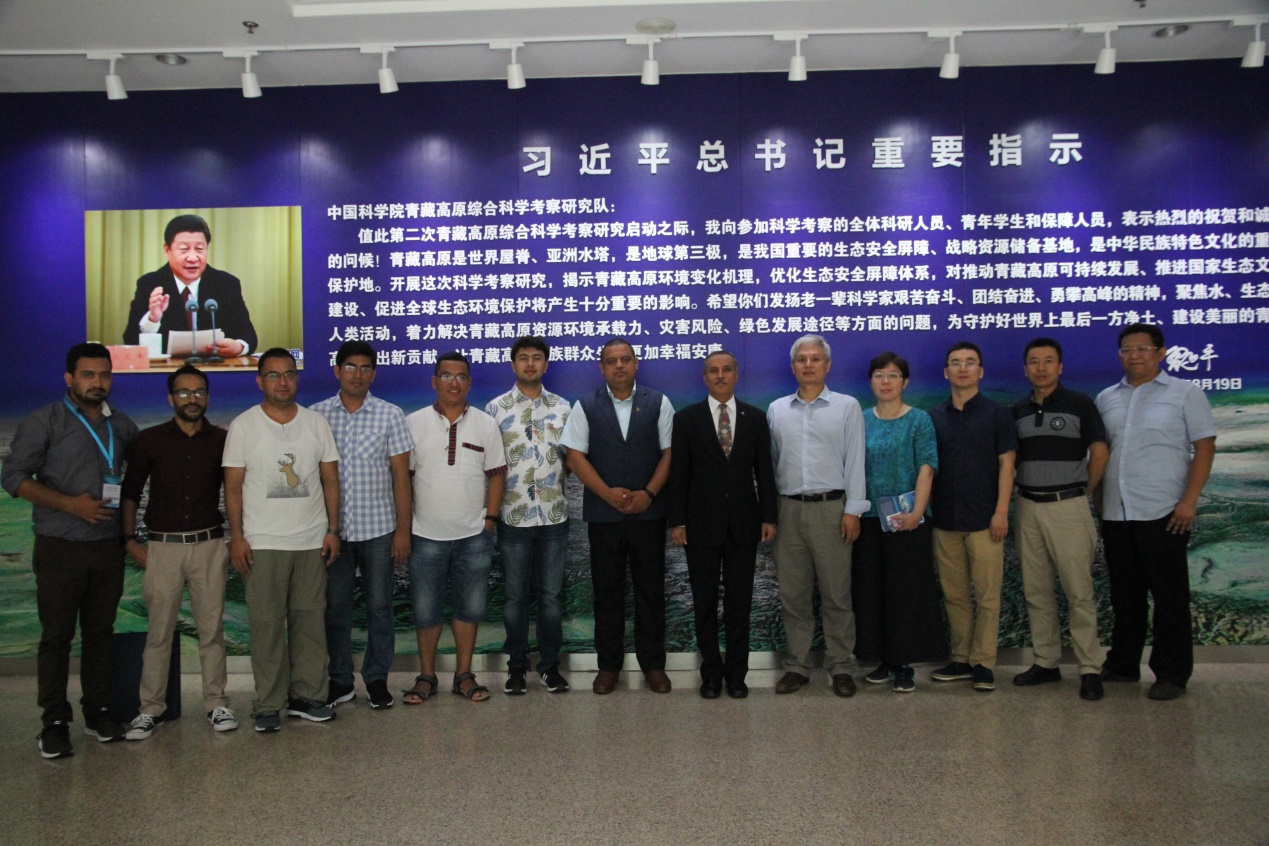 Group Photo